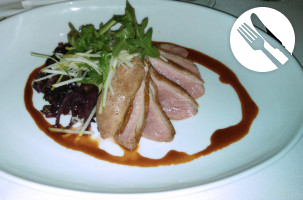 I am a bit obsessive when researching new restaurants I want to try. I usually rely on Eater and a handful of local blogs to keep abreast on the happenings of the Atlanta food scene. I find enjoyment in studying a menu, thinking about what I want to get, and even googling items I may be unfamiliar. I am not much of a spontaneous eater as I usually want to ensure I have a good meal and feel like its worth the five minutes of due diligence to research a place beforehand. Nonetheless, everything I had read about Aria was good. I knew it was the fine dining place to eat up for special occasions and knew Katherine King was a nationally recognized pastry chef (I am for sure a sucker for desserts).
I just loved the vibe of Aria as soon as I pulled up to the restaurant, with it being in a semi house-like building. On a weekday, it had a nice blend of business dinners along with just regular couples having dinner. On to the food, for the night, I shared an app, two entrees, and a dessert with my guest.
We opted for the crab cake appetizer. One of my pet peeves is ordering crab and it being masked by some other flavor which obviously cues one to the fact the seafood probably isn't of the freshest variety or the chef didn't let the crab meat shine like it should. The two crab cakes came with a salad made of green apple, walnut, shredded Napa and a nice asian mustard sauce. It was a great light app where you were able to taste the crab in its lightly fried batter that was complemented well with a refreshing salad on the side. I could have had three more orders and been content for the night.
For entrees, I am a sucker for dover sole. It is probably my favorite cut of fish and if its on the menu, chances are that I am getting it. This was a typical sole dish in the way it was prepared in a lemon sauce with capers on the side. However, the fish was immaculately prepared with all the elements on the plate serving a purpose for complementing one another. The other dish was the duck breast that was cooked to a good medium rare and served with a nice seasonal side.
I obviously had to try dessert and after reading reviews, I opted for the chevre (goat cheese) cheesecake. It looks like it usually served with whatever seasonal fruit in available, in my case, it was strawberries (the photo is from another occasion and shows figs). Believe the hype, this was probably one of the better desserts I have had and it just a nice, light variation on the classic cheesecake. It was also severed warm which made it that much more decadent.
Overall, the food was amazing, as was the staff. We all know there a ton of upscale restaurants in Atlanta but this is in my opinion was the best food and ambiance I have experienced.
Vibe – 4.5
Food – 4.5
Aria
490 E. Paces Ferry Road NE
Atlanta, GA 30305
anish
I am a 20-something white-collar worker that enjoys the great food options Atlanta has to offer. I enjoy sharing my dining experiences and opinions to anyone who will listen. I hate being the guy next to your table taking cell phone pics but understand its place as a necessary evil in the food blogging world. I love to research places beforehand (some would say to a fault). The theory is if I am going to spend time and money eating out, it is worth the 10 or so minutes to vet it out beforehand. I have a laundry list of dining places I still want to go to but for every one I check off, four probably get added. For me though, that is probably the biggest perk of living in a big city.