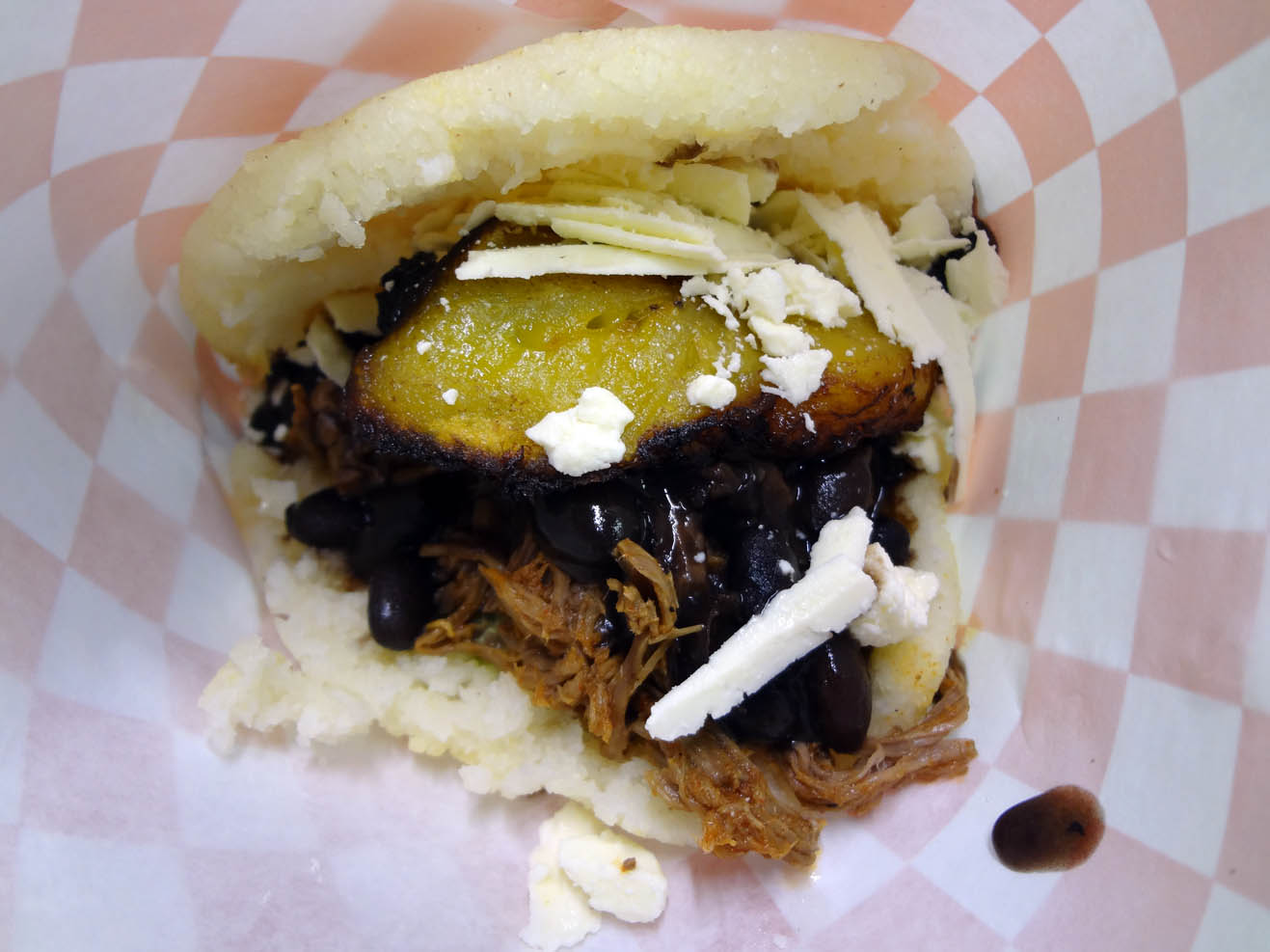 Arepa Mia is a rising star in the Atlanta food scene, currently located in the Sweet Auburn Curb Market. Serving up venezuelan delights with an obvious emphasis on arepas, Arepa Mia has garnered a lot of positive attention since coming to a stable location within Sweet Auburn.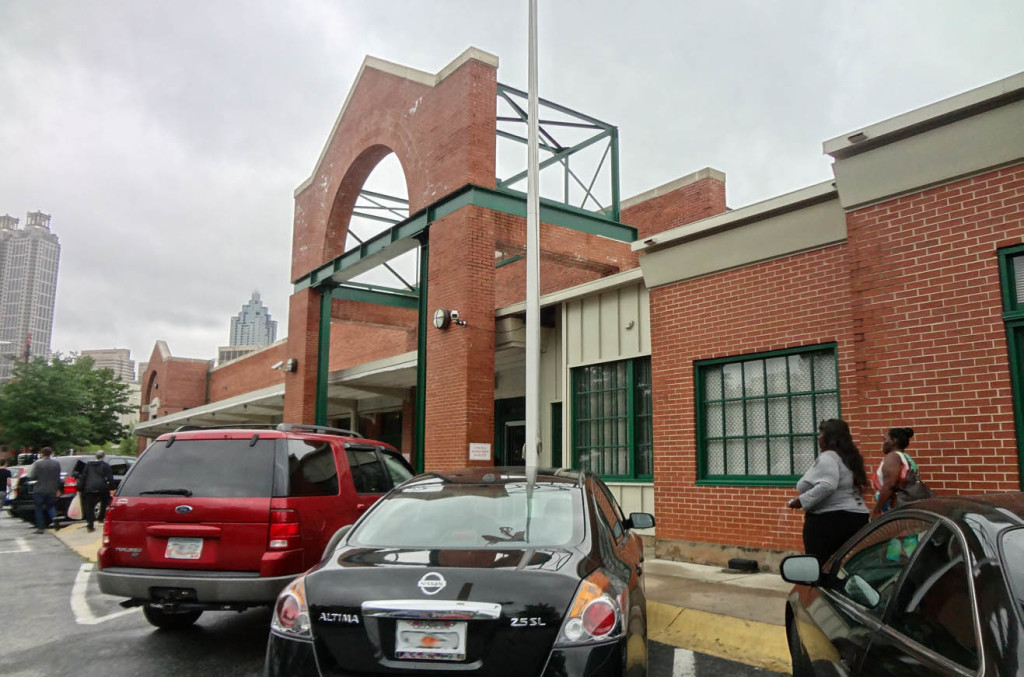 From Arepa Mia's website: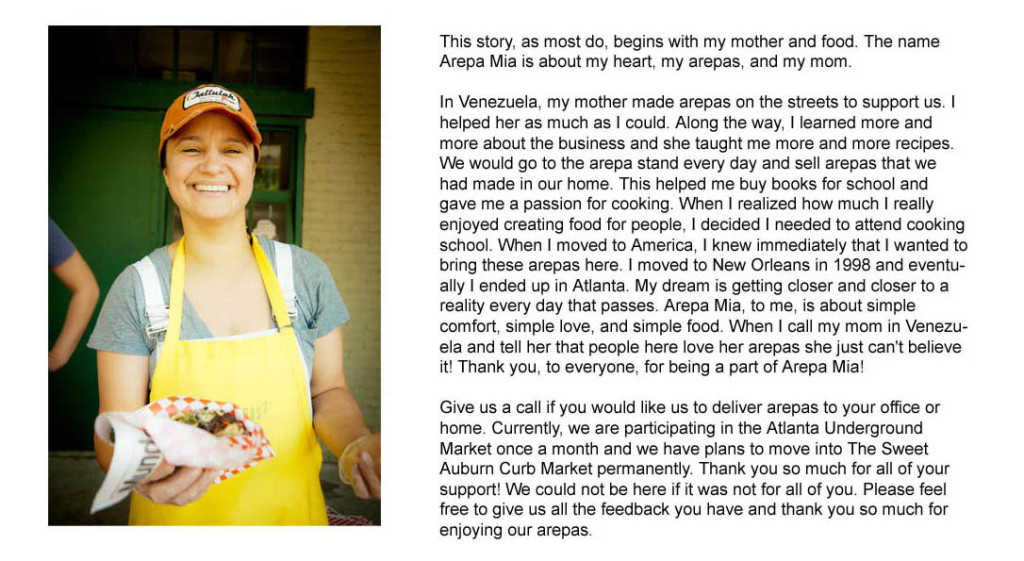 (While the designer in me wants to take this website into my arms, cradle it and help it grow, the foodie in me is far too interested in delicious arepas to be bothered much.)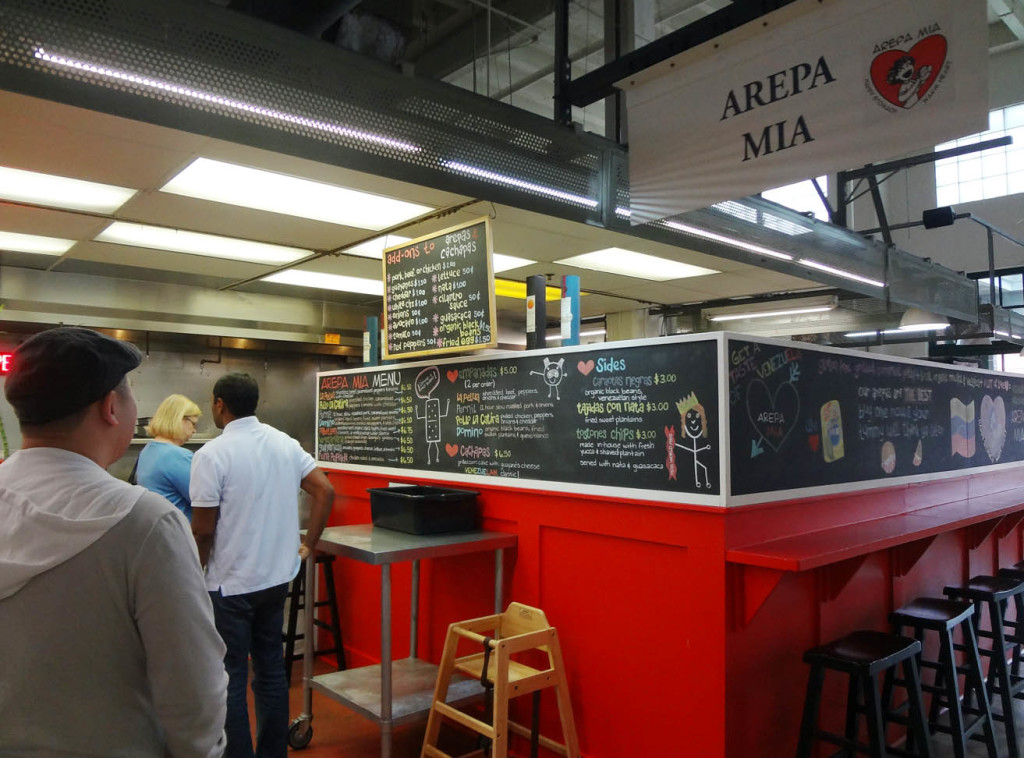 The space is nicely decorated, well-laid out, and quite clean. There are nice chalkboard menus, communal tables equipped with paper towels, and lovely venezuelan tchotchkes for decor.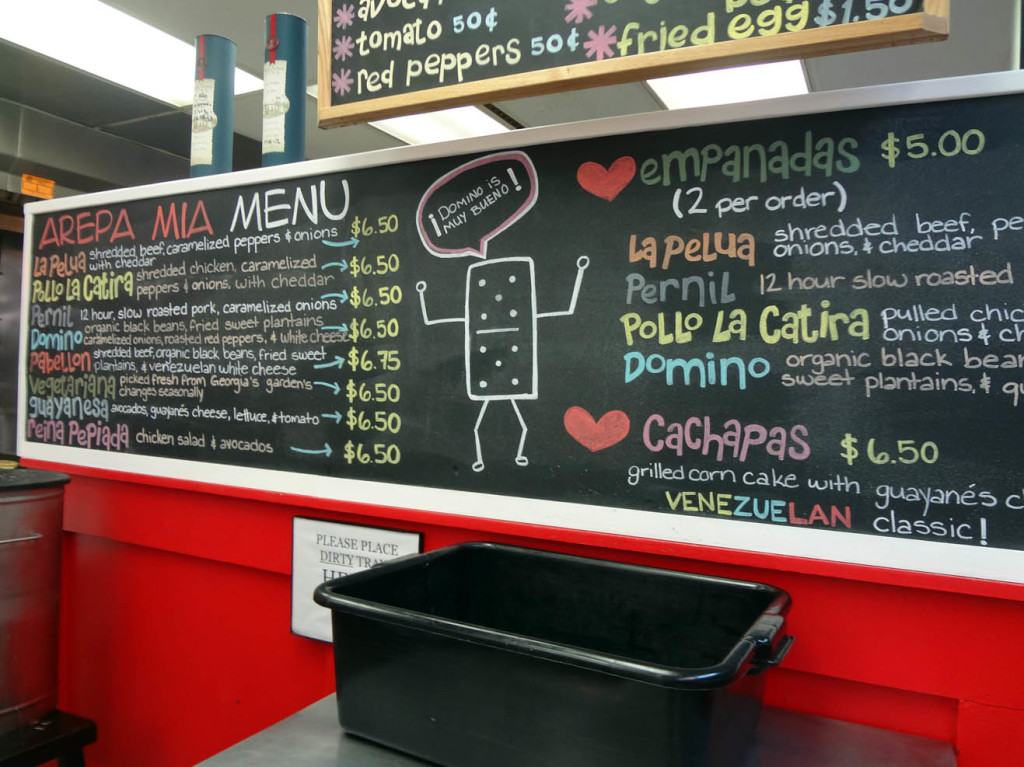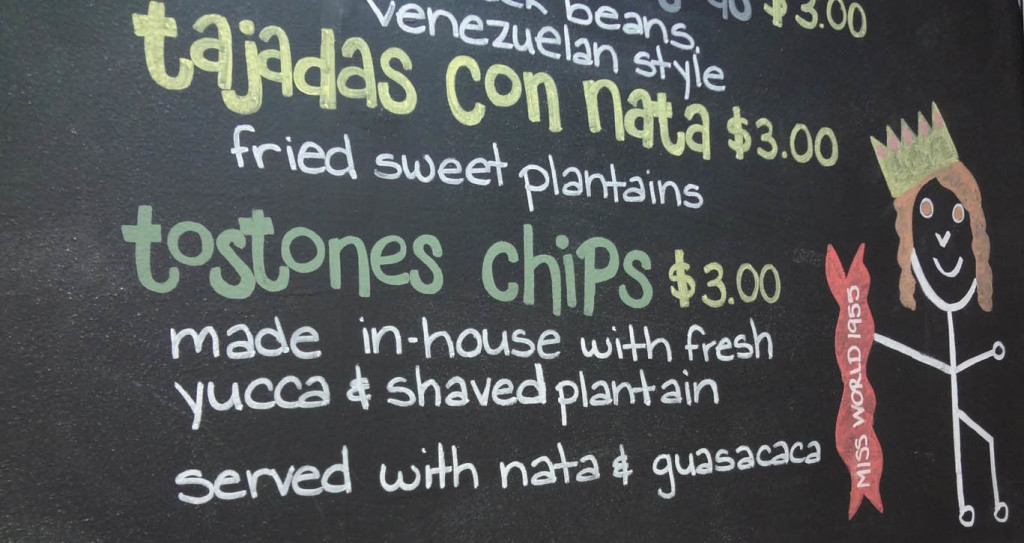 This is an order-before-sitting place, which is just fine by me. Between the three of us, we ordered a guava drink, a sugarcane drink, a soursop drink, the infamous pabellon arepa ($6.75), la pelua arepa ($6.50), pollo la catira empanadas ($5), and the tostones chips ($3).
The lovely lady who rang us up was very amiable and happy to split our meal three ways (something terribly easy to do these days, but that many servers are still surly about, for no apparent reason – seriously, I've been a server and it's super easy).
The area behind the counter was quite cute, and the board explained what an arepa is and how to eat it – helpful!
Our order did get a little mixed up. There are arepas and empanadas that go by the name of pollo la catira, and I'm not sure whether the miscommunication was on our end or theirs, but no matter. The arepa was tasty anyway!
All of the arepas were great – we opened them up, to swap forkfuls of the tasty fillings, so that everyone could try each type. I love dining with curious people who love food!
Anish's opinion on Arepa Mia: "This was my first time at the Sweet Auburn Market and from my research, Arepa Mia seems to be the highest regarded stand inside. Overall, I thought our meal was solid and super affordable. To drink, guava juice which was very fresh and light, well worth the $3. For me, the pabellon arepa was definitely the best thing we had. The beef was tender and the beans and plantains complimented it nicely. There was a nice touch of feta on top which added a nice element of creaminess. I also am a carb whore and was thus, a big fan of the in house chips (mix of yucca and plantain), nice crunch and definitely a good side dish to get. Since our order got a little mixed up, we didn't get to try the empanadas but I would definitely go back to try those and the cachapas. 4 stars for me."
Some thoughts from Teck: "Quaint, little kiosk with within the open confines of Auburn Market. Menu was clear and the service provided by the friendly cashier was spot-on. The arepas (chicken, pork + beef) we sampled and the tostones were all very delicious. Ingredients were super fresh and treated with the utmost respect and care by the chef – all making for a scrumptious little meal. The spicy house hot sauce we had packed some heat too which added to the experience. The papelon con limon (sugar cane lemonade) I had was also tasty and helped cool down my palate. Definitely worth a return trip and there are other goodies that I saw that I want to try the next time around. I would encourage patrons to come early as spacing is limited and there was wait-times increase at lunchtime. 4 stars."
The only thing I really have to say against the arepas is that I felt saying "caramelized onions" was a stretch. The were pan-roasted at best – and completely delicious. Just not caramelized… call me a stickler for accuracy.
As the guest diner's comments indicated, everyone enjoyed the plantain and yucca chips. The two sauces were very different (one more a relish and the other more of a cheese sauce), but both quite enjoyable with the chips. There were also two other sauces available in easy-squeeze containers, a spicy venezuelan sauce and sriracha.
While we ate, we had fun watching the people and things in the market. It's a fun atmosphere to dine in, and added to rather than detracted from the overall experience. Atmosphere aside, the food was great and the prices were very fair, both for the quality and for the fresh and organic ingredients. 4 stars all around.
Arepa Mia
Sweet Auburn Curb Market
209 Edgewood Ave. SE
Atlanta, GA 30303
emily
Nerd. Foodie. Gamer. Homecook. Perpetual planner. Gardener. Aspiring homesteader. Direct response graphic designer. I use too many damn commas.