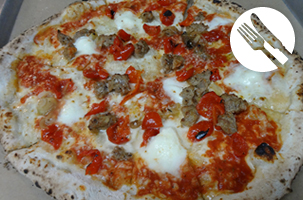 If you live in Atlanta and haven't heard of Antico Pizza yet, you likely have been living under a rock. If you haven't been yet and like pizza (which has to be everyone), it needs to be a high priority. As mentioned in my Gio post, we need more Giovanni Di Palma's around town. Not sure when it opens but he has a market opening up across the street called Luisa's. That'll make a strong four-headed monster of Antico, Gio's, Caffe Gio, and Luisa's all on one block.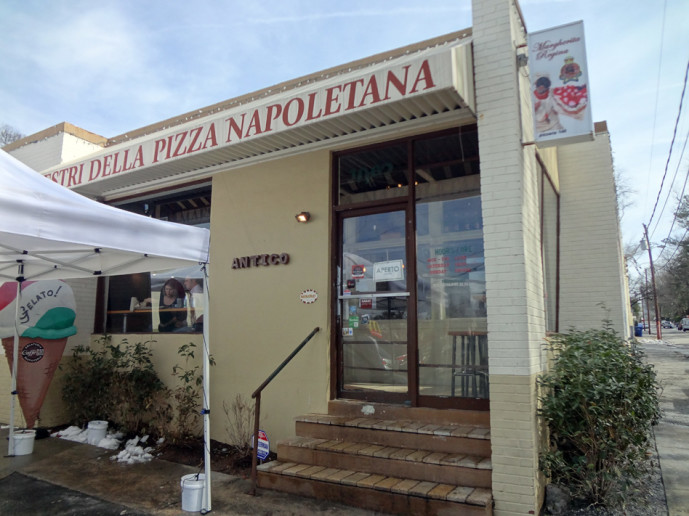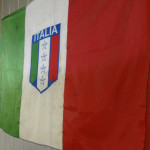 Antico has, in my eyes, become one of Atlanta's new age staples due to its unique vibe and most importantly, the great product it serves. When you hear about older Atlanta staples such as The Varsity or The Vortex, I don't feel like those do our city justice from a national spotlight perspective. This is where I hope places like Antico, Fox Brothers BBQ, etc start to become the spots on the tip of peoples' tongues.
The menu is pretty straightforward with 10 different pizzas, a couple of calzones, and an assortment of cannoli. I have yet to try their calzones but have tried 5 or 6 different pizzas over various visits. On this visit, we sampled the San Gennaro & Capricciosa. I am one who likes to scope out menus beforehand, and my obsessive nature of googling menus before visiting panned out here before my first visit, as there were a few ingredients listed that were foreign to me.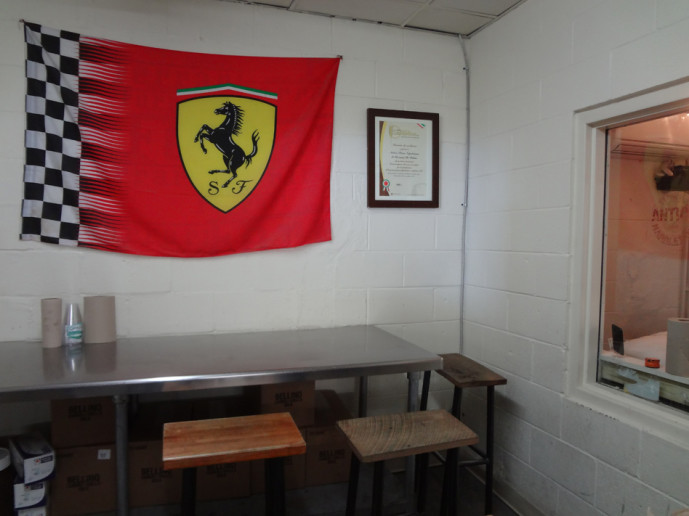 At Antico Pizza, you order at the counter right when you walk in but were the "coolness factor" really sets in is when you walk around the corner to the picnic style seating with the backdrop being an open kitchen where you can see your pizzas being cooked in wood fire ovens. Other sites include a boatload of pizza boxes, the dough room, and Nutella jars the size of infant children are also seen lying around. I really believe its one of the best atmospheres to dine in.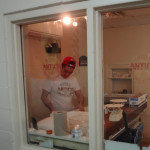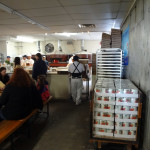 It's usually packed during lunch and dinner hours which means it will likely be hard to find seats after you order and you will likely feel forced to leave once you have finished to allow the next man up to sit.
One perk about Antico is its BYOB policy which is always a plus. Another perk is that near where the cooks are making the pies, they have self-serve parmesan, garlic, peppers, and a few other items to add onto your pizza.
On to the food, the San Gennaro is really well-balanced pizza. I would venture to say that it is one of their most popular pies and definitely one of my favorites. Quality ingredients are what really drive the pizza here. The sauce isn't overly sweet like found at most places and holds its own here. On this pie, the salsiccia (sausage) and peppers play off of each other well and the cipolline (onion) is more of a subtle element and doesn't really pop on the pizza. I love the chew on the crust (there is usually a pot of marinara sauce you can get for the side to dip your crust on).
The Capricciosa was another good choice as it was more loaded topping wise. My only knock on this pie would be the artichokes could have been a little more cooked but that was more of just a personal preference. One inconsistency I have found throughout numerous visits here is sometimes the pizzas are cooked at varying lengths which leads to a light to heavy char depending on which pizza you get.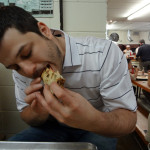 The cannoli are one of my favorite, if not my very favorite dessert, and the ones served here are definitely high quality and tasty.
There has definitely been a surge of neapolitan-type pizzerias around town as of late and I am not complaining. I personally like the chew on these pies better but have yet to find a good New York style slice around town. Antico Pizza is what Atlanta needs more of: good food with quality ingredients in a welcoming and upbeat atmosphere.
Food: 4.5
Vibe: 4.5
Antico Pizza
1093 Hemphill Avenue
Atlanta, GA 30318
anish
I am a 20-something white-collar worker that enjoys the great food options Atlanta has to offer. I enjoy sharing my dining experiences and opinions to anyone who will listen. I hate being the guy next to your table taking cell phone pics but understand its place as a necessary evil in the food blogging world. I love to research places beforehand (some would say to a fault). The theory is if I am going to spend time and money eating out, it is worth the 10 or so minutes to vet it out beforehand. I have a laundry list of dining places I still want to go to but for every one I check off, four probably get added. For me though, that is probably the biggest perk of living in a big city.