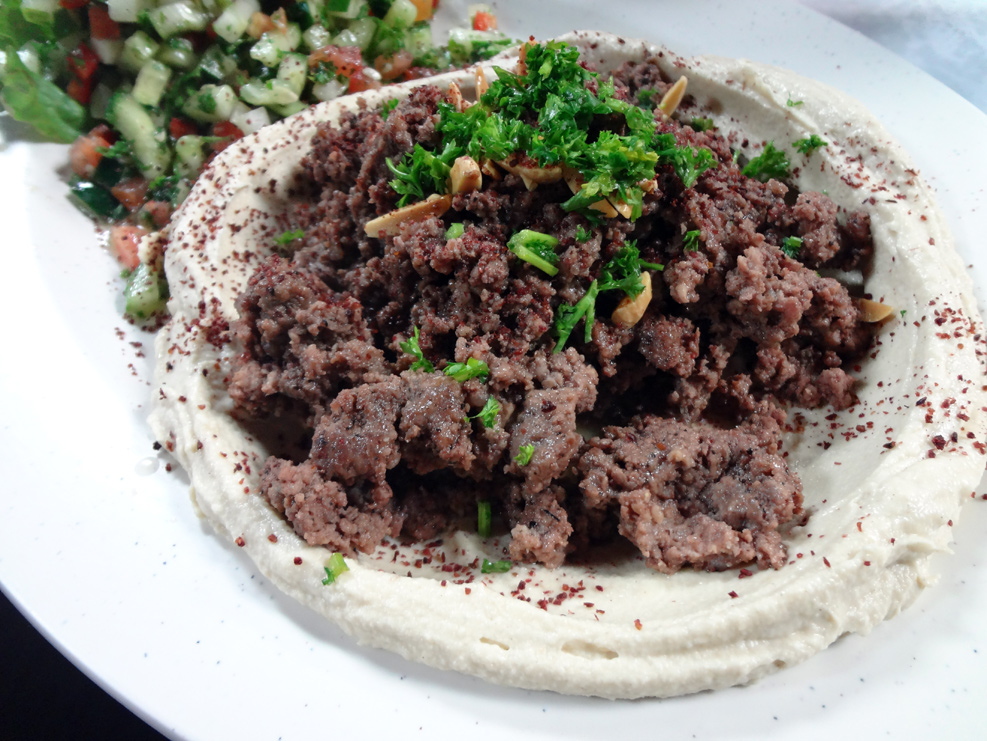 I have been dying to get to Ameer's Mediterranean ever since I first spotted it while we were checking out Waikikie Hawaiian BBQ next door – back in 2013. Well, I finally got around to it this past weekend, and with the lovely Grant and Marie of Marie, Let's Eat! to boot!
This is a walk-up and order before you sit kind of joint, and after looking over the specials display and the menu, Adam and I opted to order the babaganoush appetizer (I had to get my fix), the #1 special, and the lamb on hummus. The interior is split into two sections and we sat on the second side, the side with the TV, the restrooms, and the buffet. The cutlery is self-serve here – overall the place has a spartan look and feel, but that's not necessarily a bad thing.
My babaganoush was delicious. The pitas were warm, fluffy and satisfying, but I was too hungry to look and see if I reckoned they were store-bought or fresh-made. I ate entirely too much babaganoush… no regrets. I think it's probably the best I've had (though I haven't had an awful lot, to be fair).
The #1 special was good. It includes a variety of foods, so it's a good way to cover your bases a bit. The shawarma was good and moist. Adam enjoyed both types equally, but I preferred the chicken. The hummus was fantastic and the rice and falafels were both solid.
The cucumber salad was light and fresh, but with so much food on the plate and limited stomach space, it was what got left behind – at least by me. Even if I wasn't too keen on it, Adam surprisingly was. I say surprisingly because Adam hates cucumber-based anything, but he did enjoy this.
So the special was fine and all, but the real stand-out dish of this meal was the lamb and hummus.
This dish was beautiful and scrumptious. The hummus was really great: from the flavor to the texture, to the spices. It's probably the best we've had in Atlanta or elsewhere for that matter. The lamb was also really good. It was well-spiced and it made the perfect complement to the hummus. I could eat this dish a lot, and I know Adam feels the same way.
Ameer's has a seasonal buffet that will be opening in June, and we will definitely be returning to give it a shot. This place isn't fancy, but the staff is pleasant and the atmosphere is adequate, which is all you really need to eat great food. Ameer's immediately vaulted to the top of our Best Of Mediterranean In Atlanta list. 4 stars.
Ameer's Mediterranean
2168 Briarcliff Road NE
Atlanta, GA 30329
emily
Nerd. Foodie. Gamer. Homecook. Perpetual planner. Gardener. Aspiring homesteader. Direct response graphic designer. I use too many damn commas.