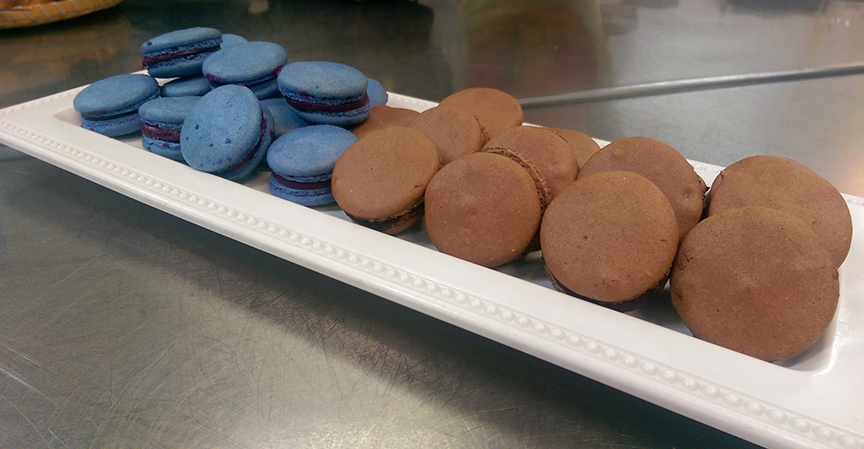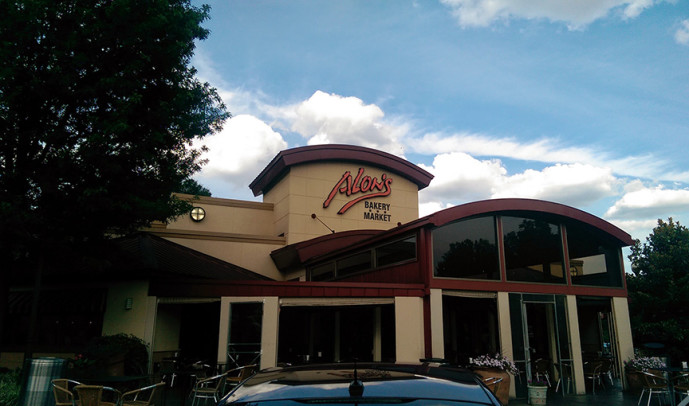 I was recently invited to Alon's, a bakery and market in Dunwoody, as part of an Atlanta Food Bloggers Society dinner. This location in Perimeter is one of two they have, the other being in the Virginia Highlands. I usually don't hit up the Perimeter area for food much and don't know of many destination spots up there but based on my visit to Alon's, it definitely serves as a worthy staple of the area.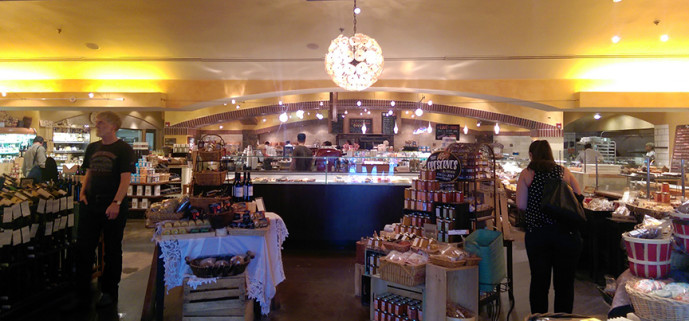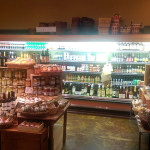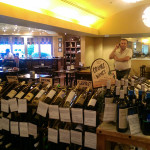 This happened to be my first visit to one of their physical stores. My previous experiences involving Alon's have been catered food for lunch at work (sandwiches and sides) and their bread being served at various restaurants across town. Their catering definitely serves as a notch up from the normal caterers around town like Corner Bakery or F20 and along with Holeman & Finch, their name is often advertised at various restaurants who use them for their bread baskets, burger buns, etc.
Even before I entered inside Alon's, I got a whiff of fresh bread being baked. Anyone who knows me, knows my affinity for bread, love for carbs and how that is one of the best smells in all of food in my opinion. When you walk in, the setup is essentially a market with different pockets littered around including a section for wine, cheese, bread, desserts, coffee, snacks (they make their own gummy bears = O) and sandwiches/sides. I could easily drop $100 without blinking in a store like this due to me wanting to try everything in it and I would imagine everything I scooped up would be worth it.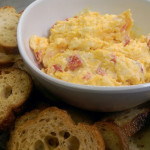 On this particular visit, we were able to sample a few apps in addition to getting a behind the scenes look on how they make their macarons. We tried their pear and radicchio bruschetta, pimento cheese, cheese focaccia, and wild mushroom bruschetta. The crostinis that accompanied most of the dishes had a nice crunch and complemented the dishes well.
Having the sweet tooth I do, I was here and excited for the macarons. Now, I don't pretend to be an expert baker and even if I did try, I would probably be awful due to the meticulous nature required to be good at it. One thing I am good at is eating though and I love a good macaron and love the variety of flavors they get served in. During our visit, we got a behind the scenes at Chef Alon creating the blackcurrant macaron.
As someone who doesn't bake, I definitely have a new appreciation for the work and care that's required to create a dessert as difficult as the macaron appears to be. I have probably had macaroons about a half a dozen times and as simple as they seem, they are hard to get right. It is evident Chef Alon Balshan takes pride in his macarons as he stated, if the title of the macaroon states blackcurrant, he wants the blackcurrant to display a punch; for you to really taste that ingredient versus just a subtle hint of it. Quality ingredients is usually a big component of making that happen and he said the key to his great fruit filling is to use a frozen puree verse fresh fruit as it makes not only the consistency for cooking better but also helps pack the flavor profile of the fruit.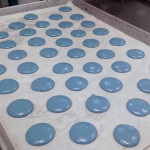 Chef Alon offered a ton of good tips for an inexperienced baker like me, such as anyone can bake because its all measured and about following instructions but the sign of a good pro is one who knows how to correct errors along the way. He has been making macarons for more than 20 years so I trusted the batch he was whipping up for us was going to be near-perfect as has put in the work to master this little delicacy.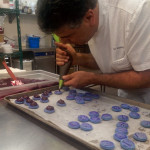 We were able to try a fresh batch of the blackcurrant macarons which offered a very different consistency than the traditional ones that are cooled. Some people said they preferred the warm gooey texture of the freshly made ones but I definitely liked the traditional kind because it allowed the cookies to get a little firm and hold the gooeyness found inside.
We also sampled the chocolate macarons and after my first bite, I instantly remembered Chef Alon's statement about the flavors delivering a punch and the taste of chocolate just bursted with each bite and I may have even preferred these to the blackcurrant ones. My guess is you can't go wrong with any of their flavors and that's evidenced by the fact they sell around 3,000 macarons a week.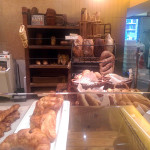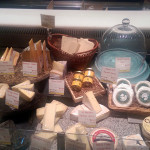 All in all, my first experience at Alon's physical location was definitely a pleasurable one and I was impressed with the breadth and scope of items they carry. I imagine I will find myself there on a weekend morning sooner than later to grab some of that bread whose smell left a lasting impression on me before I even entered the door and I'll probably be picking up a macaron or two as well.
Alon's
4505 Ashford Dunwoody Rd NE
Atlanta, GA 30346
anish
I am a 20-something white-collar worker that enjoys the great food options Atlanta has to offer. I enjoy sharing my dining experiences and opinions to anyone who will listen. I hate being the guy next to your table taking cell phone pics but understand its place as a necessary evil in the food blogging world. I love to research places beforehand (some would say to a fault). The theory is if I am going to spend time and money eating out, it is worth the 10 or so minutes to vet it out beforehand. I have a laundry list of dining places I still want to go to but for every one I check off, four probably get added. For me though, that is probably the biggest perk of living in a big city.