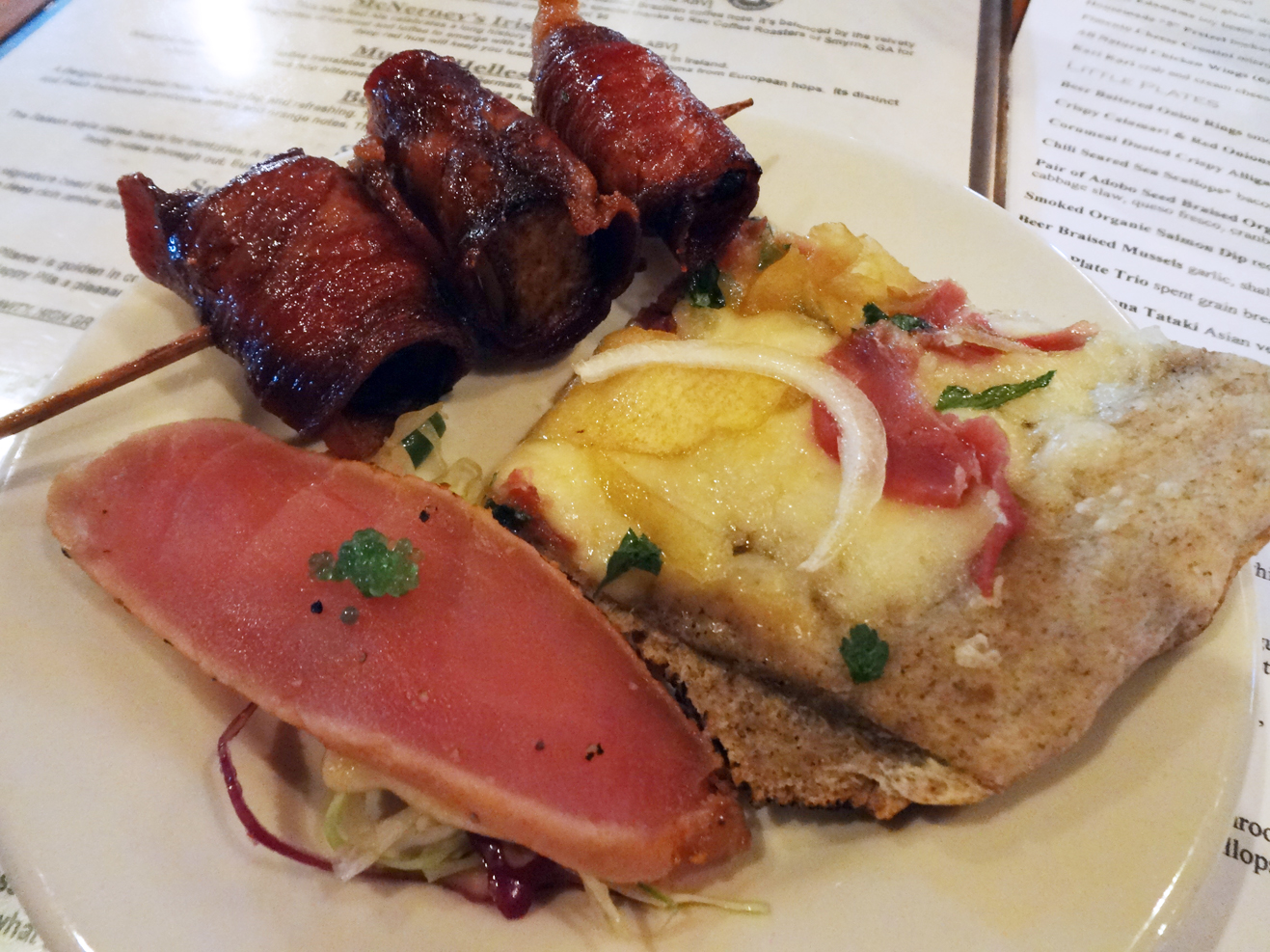 Last week I was lucky enough to able to attend Urbanhour, an Urbanspoon event, at 5 Seasons Brewing in Sandy Springs. There, I met and ate with the Atlanta food blogging elite, sampling from a spread of 5 Seasons food.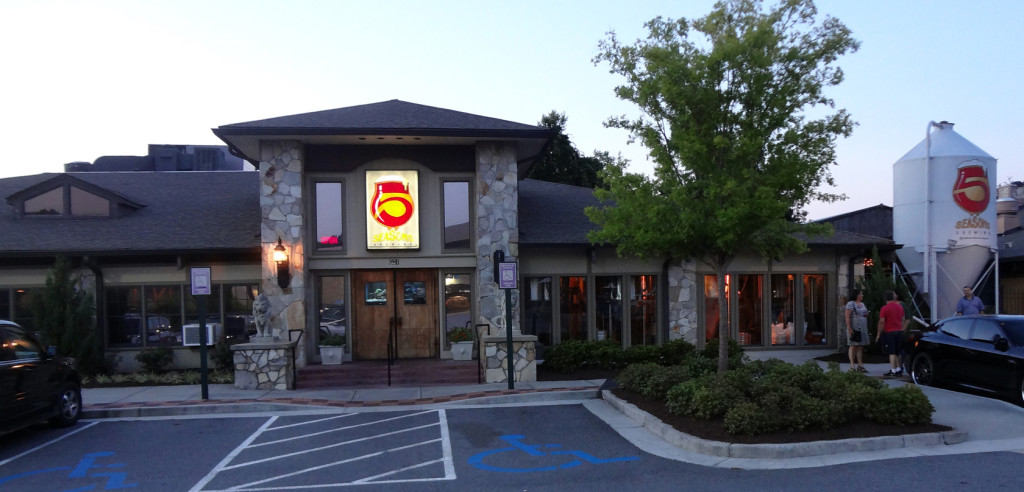 After marveling at how huge this place is (it extends pretty far left of the frame in the pic above), and located my compatriots, sat down and got my bearings. I also ordered a beer from the impressive list of in-house brews – hence the "brewing" part of 5 Seasons Brewing. It may be easy to forget that when you fall into the amazing regular and special menu of creative and intriguing dishes made from local, organic and seasonal ingredients.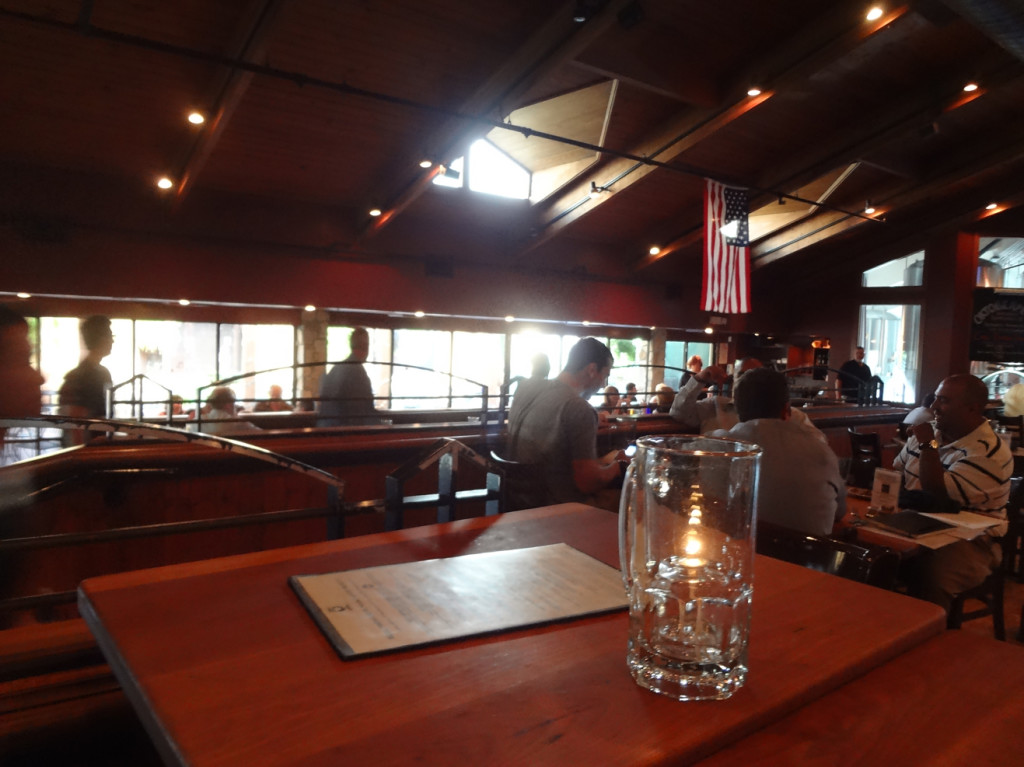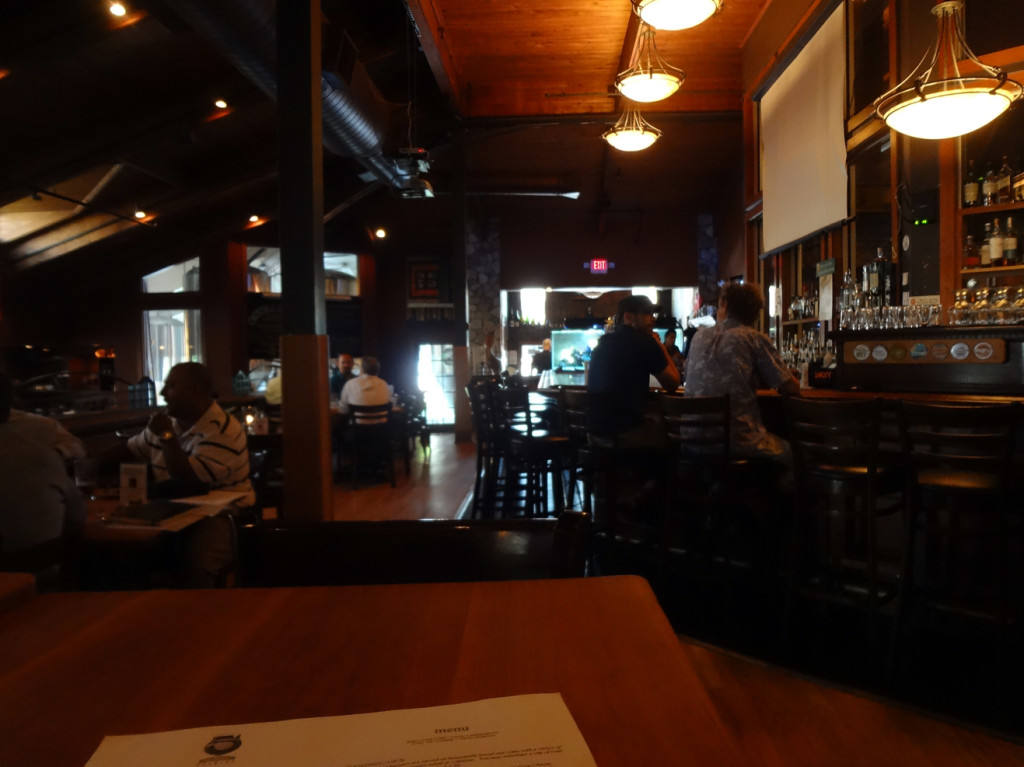 I tried two beers, the REV-elation Coffee Milk Stout and the Belgian Wit. The stout, a collaboration with local REV coffee roasters, is intense and strong. It would have been better served being my second beer. The Belgian Wit was solid, and both beers were very competitively priced. So two thumbs up on the brewing side; we'll definitely have to try more of the offerings.
By the time I made my way to the food some of it had been sitting out for a while, so if the pizza looks a little greasy, that's why. Sorry! I've always been chatty; it's a thing with me.
The Serrano-wrapped melon balls were very interesting. The combination was so unexpected that I actually thought I was eating a scallop for a minute. It was interesting enough that I needed a second take! The pizzas were all nice, thin pizzas, and all three were tasty. The asparagus and mushroom was my favorite, but I also really enjoyed the Serrano and apple pizza. The basil tomato was no less good, it's just a classic, albeit very a well-executed classic in this case. Same goes for the Ahi tuna, which was tasty, but much in keeping with all the Ahi tuna I run across (though this was more responsibly sourced, which is important).
The food we sampled was great – thanks to 5 Seasons and Urbanspoon for making this event happen – but after perusing the menu the hubs and I knew that trying the Antelope "Patty Melt" ($15) was a must, and in the wake of a recent german dining experience in Queens, NY, I threw on a side of spaetzle ($5) as well.
The patty melt was delicious! Without having a beef steak and an antelope steak to compare side by side, I'm not sure I have any great revelations about antelope meat to share, but hey, I can at least say that I've had it and enjoyed it! The spaetzle, while also good, read more like mac 'n' cheese than the spaetzle that I am accustomed to. But I am third generation german, so I really have very little clue about what it and isn't authentic.
What is authentic is the passion of 5 Seasons Brewing for responsible and creative dining and brewing. Our preconceptions about 5 Seasons being an ultra-expensive joint were totally shattered. We got one of the more expensive items on the regular menu; most things are more like $10-$12 than $15+, thought there are a number of fancy things to try, should you desire to do so. We will definitely have to check out our more local Westside location of 5 Seasons Brewing to sip more brews and try more foods. 4 stars!
5 Seasons Brewing
5600 Roswell Rd NE
Atlanta, GA 30342
emily
Nerd. Foodie. Gamer. Homecook. Perpetual planner. Gardener. Aspiring homesteader. Direct response graphic designer. I use too many damn commas.