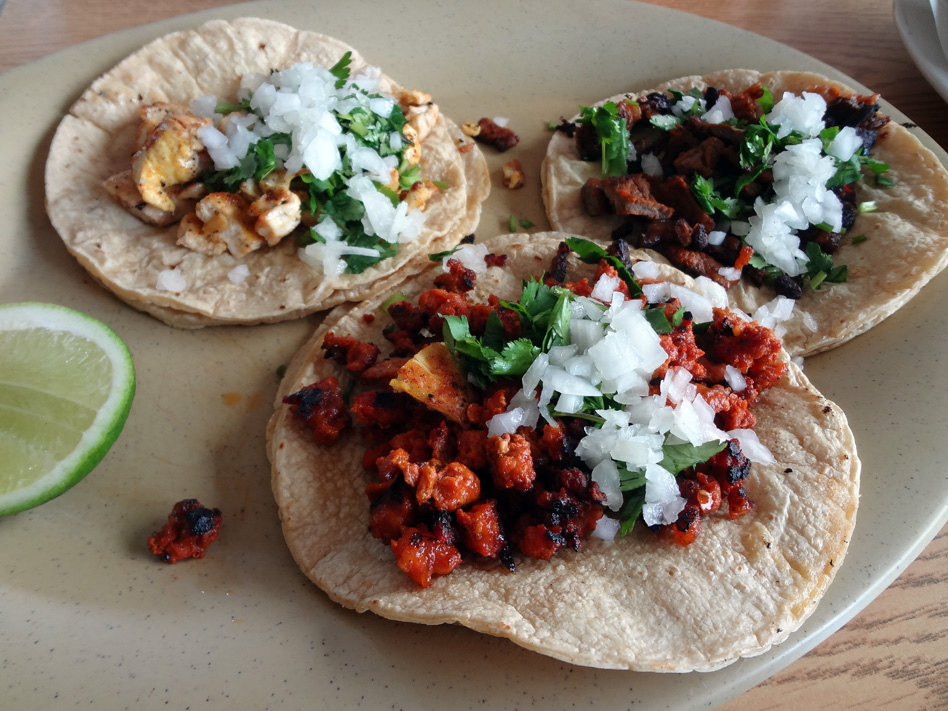 In the spot where the Pho Viet portion of Van Bakery and Cafe used to be, a new restaurant opened up a little over a week ago. 5 De Mayo Mexican Restaurant – Taqueria and Pupusaria. As far as I can tell this mexican joint has some serious guatemalan leanings, which is just awesome by me.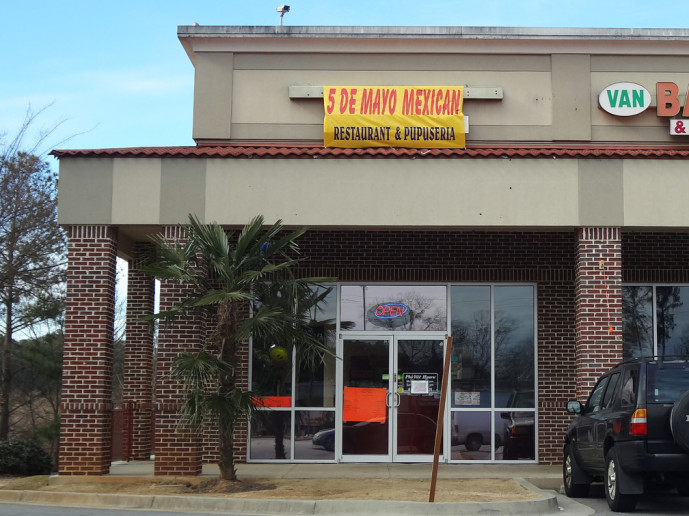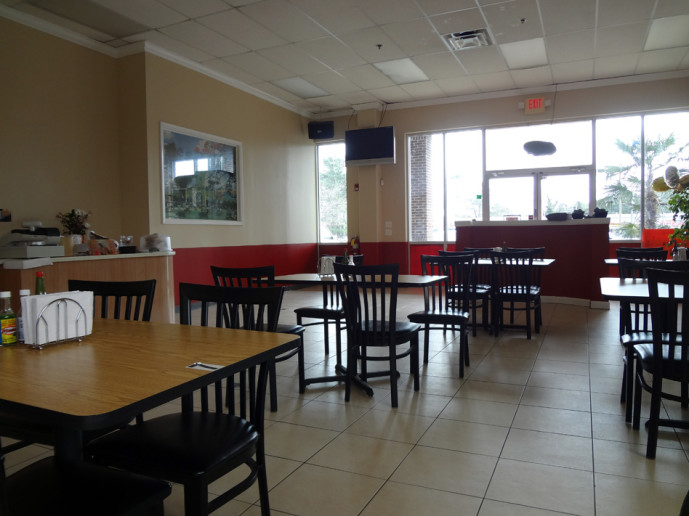 The inside is still pretty spartan. There are a couple pieces of art, but it's mostly bare – there are still even some of the old chinese/vietnamese good luck charms hanging up.
The pupusas and the Picamas sauce are the guatemalan elements that led Adam and I to think that 5 de Mayo is more than just a standard mexican restaurant. An illuminating Google search taught me that other latin countries do celebrate Cinco de Mayo as well, so the name still applies to Guatemala.
After ordering, we got a big plate of homemade tortilla chips with extremely generous portions of two types of salsa. The chips and the salsas were all good. We preferred the tomatillo salsa.
Since 5 De Mayo professes to be best at tacos and pupusas according to its menu, we decided those were a great place to start. We ordered the three tacos for six bucks. They didn't have the barbacoa that we wanted, but since they just opened, I guess it's understandable.
The tacos had raw onion and cilantro, and came with lime to juice 'em up. We also used some of the leftover salsa from the tortilla chips. They weren't oily like some tacos are, especially some chorizo tacos. The chorizo was quite tasty, and the beef was very good as well. The chicken was pretty good, too, but definitely our least favorite of the trio.
The pupusa came with cole slaw. Emily Trivia Fact #12: I hate cole slaw. But I also believe in pushing boundaries and try to challenge my beliefs from time to time, so I tried this cole slaw. And I liked it a lot! AND I was already full of chips, salsa and tacos, so it wasn't the seductive effect of hunger. Now I wonder if it's just the common cole slaw of the american southeast that I dislike. I'll have to keep experimenting.
But on to the pupusa. I'd heard a lot about pupusas, but never had one before. This was a great little thing and a great price! I'm also not a huge fan of chicharones, but I was still impressed by the pupusa and enjoyed every bite. Adam really loved the pupusa, too, so success all around with this dish!
This high note is where our experience should have ended, were we smart people.
The generous amount of hearty chips and salsa surprised us, and between that and the tacos and pupusa, we were actually fairly pretty darn full – and on $8 plus tip! Ridiculous! Unfortunately, we were really hungry when we came in and made an error in judgement by ordering diablo shrimp. This is a spicy dish we both really enjoy, but it's also probably not the thing to buy at a brand new restaurant 500 miles inland.
The shrimp were definitely previously frozen, and that really worked against the dish, which was spicy but not overly so. The rice was very mild but still not bland – a pleasant subtle flavor to balance the spice of the diablo sauce. The beans were okay. All in all, I really blame our judgement more than anything else. If I were a new restaurateur in this location, I would probably keep track of demand for a while before routinely ordering pricey food that doesn't keep as long as other types of animal parts. And that would mean using frozen shrimp. I'm prepared to chalk it up to new restaurant woes, or at the very least ordering outside of the restaurant's stated specialties.
Still, it wasn't bad. Just not as impressive as everything else. Really, to think we could have left satisfied for around $12 is somewhat mind-boggling. Adam and I are resisting the urge to get swept away in the excitement of a new place with great prices, and are sticking to 3.5 stars for now. But depending on how things go when the restaurant is all settled in, I think we could really have a go-for-the-great-cheap-food-and-nevermind-the-setting winning taqueria (and pupusaeria) on our hands. Can't want to find out!
5 De Mayo Mexican Restaurant
5000 Buford Highway #195
Chamblee, GA 30341
emily
Nerd. Foodie. Gamer. Homecook. Perpetual planner. Gardener. Aspiring homesteader. Direct response graphic designer. I use too many damn commas.