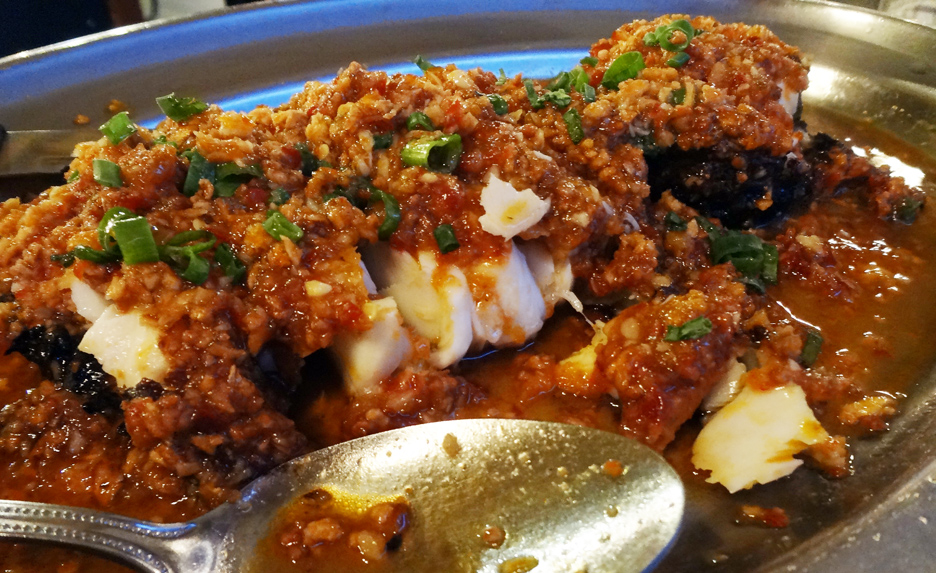 Even my getting this place on 11Alive couldn't keep this place afloat, which i think is really sad because I really liked it. Closed some time in 2015.
It's somehow very fitting that the 80th Buford Highway post on this site would be a restaurant in such a recognizable, iconic structure. If you haven't read the Marie, Let's Eat post that includes some of the history of this building, you should check it out. It's a really neat space!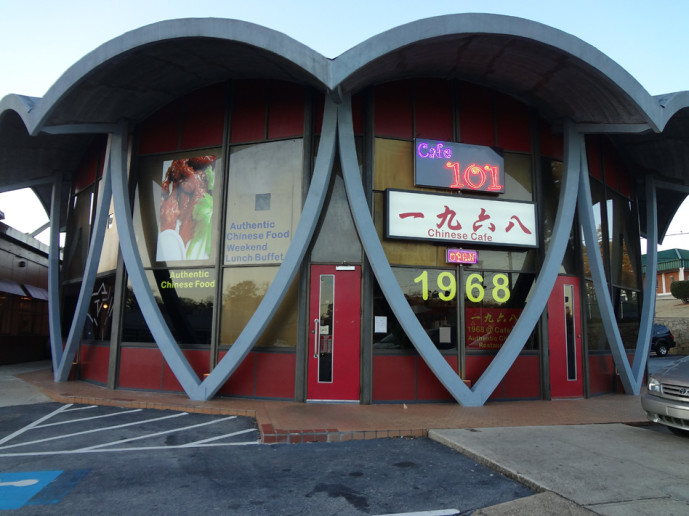 Adam and I didn't not quite what to expect from 1968 at Cafe 101, but Grant's post had informed us that the restaurant's current iteration was fairly new, so we knew whatever we had heard in the past was probably no longer relevant.
When we first walked in, it was completely desolate, dark and quiet. There were people there though, and they quickly greeted us and ushered us to a table. They turned on lights and classical music, too. It was a little weird, but I guess we just started their dinner rush, because a decent number of people came in while we were there.
This guy named David came to talk to us and very smoothly sell us some awesome chinese food. He asked us if we were interested in "american chinese food or real good authentic chinese food." Clearly, the answer is real authentic chinese food. So, he immediately launched into a diatribe of the various things we should order, and we let him pick out an appetizer and two entrees for us.
It was a weird feeling, like we're getting a special and personalized experience, but also a well-practiced sales pitch. Well either way we wound up getting some great food in the end.
While we waited, we drank our tea and ate some tasty, tasty spicy broccoli.
First up was an entree – Kao's special dish. I am not entirely sure what all is in this dish other than some awesome chive-like vegetable, little squid arms, firm tofu, and red jalapeños. This was a nice dish – very flavorful but still light. Interesting "french" cut style of the veggies. Great textures, and a great dish all around.
Next, our appetizer came out and to our surprise they were pork soup dumplings! My chinese is pretty abysmal/non-existent, but I could have sworn I heard David say Shanghai in his spiel, as well as bao. And bao means dumpling/bun. I tried to ask David, but I probably didn't ask correctly. Plus they weren't on the menu, so I didn't think we'd get them. I was so pleasantly surprised! These are just as good as the ones at Chef Liu, and the dipping sauce is actually a little better.
Last but certainly not least was the cod filet, covered in a delicious sauce that came out on a special dish that had a flame underneath in a built-in space. The fish was still cooking, in fact, and David showed us how to break up the fish and put the amazing sauce inside.
The cod finished cooking while we were finishing up our pork soup dumplings.
The fish was really quite amazing, especially with the sauce. The way it was cooked and the amount of time it spent on the flame before the flame burned out led to the fish being cooked perfectly – just enough to flake but still super succulent. And the skin was crunchy, savory-sweet goodness. Super. We enjoyed it so, so much. It's a pricey dish for our blood, but for the amount and quality of the fish it was worth it – not an unfair price at all.
We had a great experience at 1968 at Cafe 101. Despite the weird name, ha. The service was great – helpful, friendly, and direct. The guided meal was great even if it just was a thinly veiled up-sell to higher-priced items, the items were very tasty and worth the price.
At the end of our meal, we got a survey to fill out to get a coupon for our next visit. And there will a next visit, I assure you. The menu is massive and there are a lot of very interesting, uncommon dishes in there to go back for.
Interesting but relaxed environment, too. Actually, as far as joints on Buford Highway go, 1968 pretty darn well nailed all the key aspects of the quintessential dining experience – food, price, service, and atmosphere. Usually, we'll get one and a half or two of these, but Cafe 101 hit them all. You can definitely get out the door without a $25 entree, but they're there if you want 'em.
All in all, we were very impressed, especially given that we had no idea what to expect going in and wound up having one of our very best Buford Highway dining experiences so far. 4.5 stars. Run, don't walk.
1968 at Café 101
5412 Buford Hwy NE
Doraville, GA 30340
emily
Nerd. Foodie. Gamer. Homecook. Perpetual planner. Gardener. Aspiring homesteader. Direct response graphic designer. I use too many damn commas.